World
Strike in UK: General strike sees British teachers, transport worker walk off jobs in massive industrial action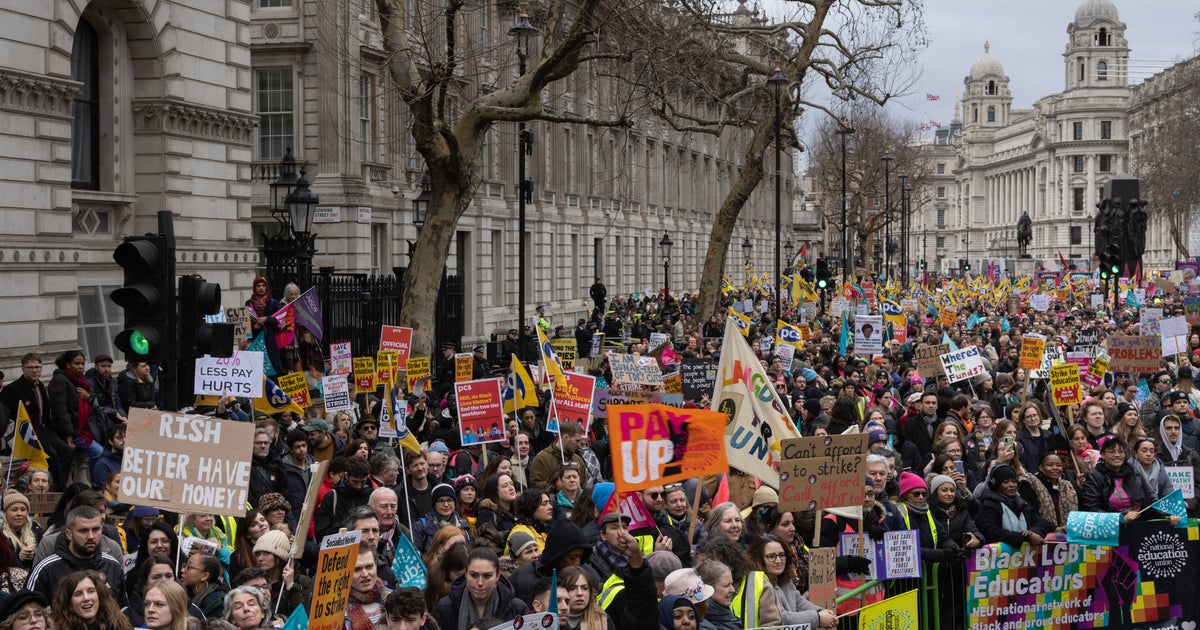 London — An estimated half a million workers across multiple sectors in the U.K. went on strike Wednesday in the biggest industrial action Great Britain has seen in more than a decade. The strikers included teachers, civil servants, train and bus drivers, border officials and university staff demanding better pay and working conditions amid soaring inflation and energy prices — difficult circumstances that an IMF forecast suggests may have been exacerbated by Brexit.
"The government have been running down our education (system), underfunding our schools and underpaying the people who work in them," the National Education Union's joint general secretary, Kevin Courtney, said, according to The Associated Press. 
About 85% of schools across the country were either fully or partially closed due to the strikes on Wednesday, according to BBC News, leaving thousands of parents to either change their own work schedules or seek child care options.
"Primary schools where you can't find special needs assistants because they're taking jobs in supermarkets, where they are paid better — that's what's making people take action," said Courtney.
Wide-scale strikes have been held across the U.K. for months, grinding public services to a halt and disrupting hospital and emergency care, among other things. While nurses and ambulance workers weren't striking again Wednesday, they do plan to return to picket lines in the coming days.
Inflation in the U.K. has soared over the last year to the highest rates seen in 40 years, and it still stood Wednesday at 10.5%. 
On Tuesday, the International Monetary Fund said the U.K. would be the only major economy to contract this year, performing worse even than Russia, which is still under heavy international sanctions over its invasion of Ukraine. 
In October, the IMF forecast that Britain could expect modest growth in 2023, along with other European nations emerging from the coronavirus pandemic and adjusting to energy markets largely devoid of Russian fuel. But its new forecast this week sees the British economy shrinking by 0.6%.
The IMF did not link its prediction to the U.K.'s exit from the European Union three years ago, but Britain's trade has shrunk as a result, and many workers from the EU have left the U.K. since Brexit, causing a labor shortage that other European countries haven't had to contend with.
Many public sector workers say that their salaries have decreased in real terms over the last decade, and the soaring inflation has pushed them into financial difficulty, with some forced to use food banks.
U.K. Prime Minister Rishi Sunak has so far taken a hard line against the strikes, insisting that some of the pay increases being demanded by public sector workers are not affordable for the government. Union leaders say the government has refused to offer anything that would be meaningful enough to call off the strikes.
"Our children's education is precious, and they deserve to be in school today," Sunak said.
The leader of a national federation of trade unions, Paul Nowak, said the strikes would not stop unless meaningful change was achieved.
"The message to the government is that this is not going to go away. These problems won't magically disappear," he said, according to The Associated Press.