World
Poland to ask Germany for formal permission to supply Ukraine with Leopard main battle tanks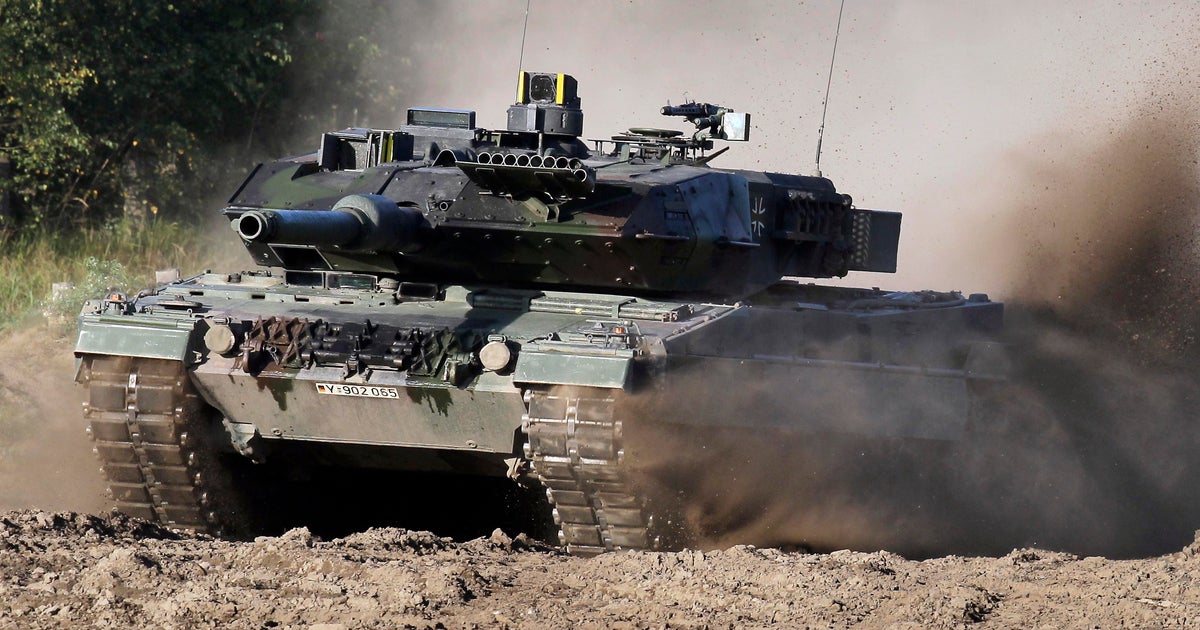 Berlin– Poland will ask the German government for permission to supply German-made Leopard main battle tanks to Ukraine, Polish Prime Minister Mateusz Morawiecki said Monday, seemingly pushing his country closer to granting a long-standing wish from Ukraine's political and military leaders. As the manufacturing nation, Germany must give its approval for the export of Leopard tanks to third countries.
Ukrainian leaders, from President Volodymyr Zelenskyy to commanders CBS News has interviewed in the freezing trenches along the front line in Russia's war on the country, have made it clear for weeks that they cannot repel Vladimir Putin's assault on Ukraine without more heavy weapons — and main battle tanks, along with more advanced air defense missile systems, have long been at the top of the wish-list.
At a European Union meeting, German Foreign Minister Annalena Baerbock dodged the question Monday of whether Germany would quickly approve any formal application from Poland or other nations to supply Leopards to Ukraine. But she did explain why, in her view, a decision from her own government was required.
"The whole country [Ukraine] is under attack from the Russian regime, and it's clear that even 11 months after the start of the brutal Russian war of aggression, Putin has not deviated from his murderous plan to destroy Ukraine," said Baerbock. "That's why it's so important that we as an international community do everything we can to defend Ukraine, so that Ukraine wins — wins to live in peace and freedom again. Because if it loses this war, there will be no more Ukraine."
A day earlier, Baerbock said on French television that Germany would not block the export of Leopard tanks to Ukraine from third countries.
"At the moment, the question has not been asked, but if we were asked, we would not stand in the way," she said after being asked what would happen, in theory, if Poland decided to supply Leopard tanks to Ukraine.
Baerbock's remarks put her slightly out in front of the man in charge of Germany's government, Chancellor Olaf Scholz, and French President Emmanuel Macron, both of whom declined to make any firm commitments last week or over the weekend about whether Germany or France would supply main battle tanks to Ukraine.
Prime Minister Morawiecki had previously announced that Poland would supply Leopards to Ukraine with or without Germany's consent, if necessary.
"We will not stand idly by and watch Ukraine bleed to death," he told the PAP news agency. "Ukraine and Europe will win this war — with or without Germany."
He made it clear that if Germany were to continue dragging its heels on approval, Poland would form a "smaller coalition" with other, unspecified countries to start supplying Leopard tanks to Ukraine. Hundreds of the modern, German-made tanks are deployed across Europe, and Morawiecki was likely alluding to other NATO member nations, such as Finland, Latvia and Estonia, which sit geographically much closer to Russian soil than Germany and have pushed hard for greater support for Ukraine.
Latvian President Egils Levits echoed the Polish demand, telling a German radio station that "everything necessary must be done so that Ukraine can defend itself."
He stressed the often-repeated warning that supplying Ukraine with more heavy weapons wasn't just to ensure that country's ability to defend itself, but to ensure the safety of all of democratic Europe.
"If a state then does not go along, that is of course a problem," Levits said, adding that he could not understand Scholz's apparent reluctance.
German Defense Minister Boris Pistorius said Sunday evening, meanwhile, that a careful coordination process with partner nations was underway, but there has been no firm decision made in Berlin about when, or if, to formally approve the transfer of Leopards to Ukraine.