World
Escaping Sudan brings fear and joy for a young American evacuee as she leaves loved ones behind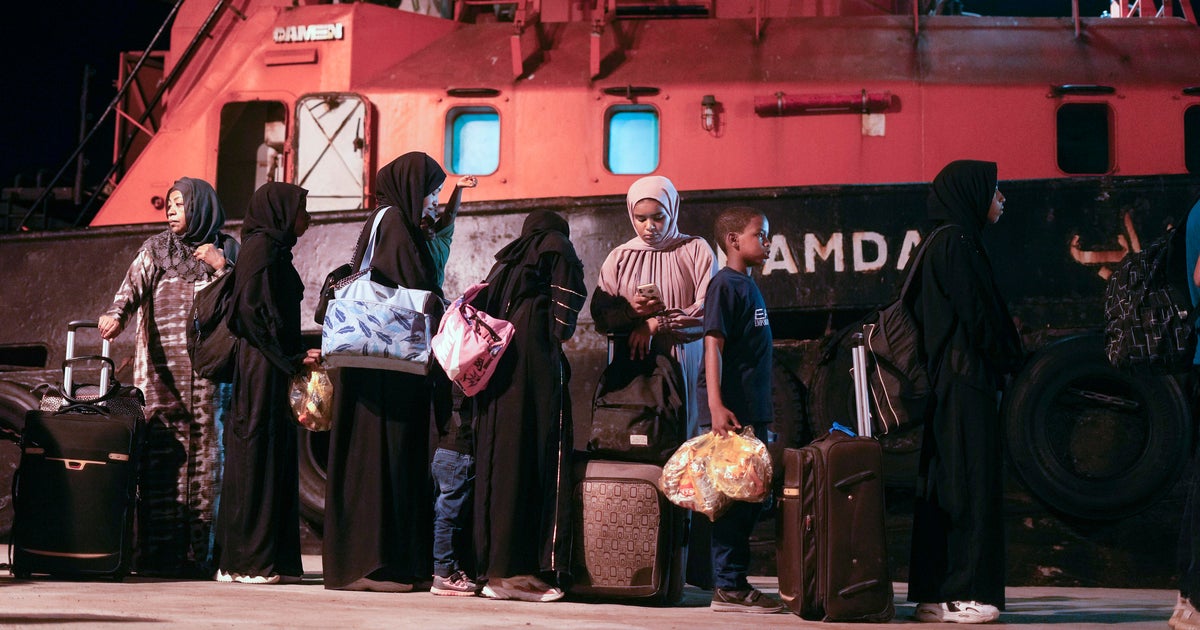 Jeddah, Saudi Arabia — Thousands of people trying to flee the violent crisis in Sudan have crowded at the east African nation's biggest port, Port Sudan on the country's Red Sea coast. A CBS News team sailed to the port Tuesday night aboard a Saudi military ship and met some of the people desperate to escape the country.
Vicious fighting erupted on April 15 between the Sudanese Armed Forces and the country's Rapid Support Forces (RSF) paramilitary group, which are led by rival generals vying for control over the country. The chaos they have unleashed has left more than 500 people dead, many of them civilians, and some 5,000 more injured, according to preliminary estimates.
For the exhausted evacuees who have spent days waiting at Port Sudan for an escape, Tuesday night was one of mixed emotions.
"I feel scared… and excited at the same time," 13-year-old Reefan told CBS News. She was eager to leave Sudan and head home to her father in Georgia.
Speaking to CBS News on a small boat carrying her to a much larger Saudi vessel for the 10-hour Red Sea crossing to Saudi Arabia, she said she was "excited, because we are going back to America, and going to a safer place."
Reefan and her family waited four days for a boat, desperate to be delivered from the evils committed by both Sudan's army and the RSF forces. They've continued fighting despite agreeing to several ceasefires over the last week, and a new, longer 7-day truce intended to take effect on Thursday, to make way for peace talks. All of the ceasefires so far have been broken by ongoing attacks within hours.
Our CBS News team arrived at Port Sudan close to midnight aboard the Saudi naval ship HMS Al-Jubail. Along the water's edge, the silhouettes of people waiting for rescue stood out.
"I saw lots of bodies on the street, I saw burned cars," said Mohammad Uzman, who said he'd worked for the U.S. Embassy in Sudan's war-torn capital, Khartoum. 
"It is very hard to leave your relatives," he told CBS News as he waited to board the Al-Jubail, "but this is the life, because of the war."
Uzman said his family had seen "everything" since the fighting broke out. "They woke up in the middle of the night crying…we ask God to solve this crisis."
Those who made it onto the small boats ferrying people from the port to the waiting Saudi ship were some of the fortunate few who have been allowed to escape Sudan. Back on shore, there are thousands of people who are less fortunate.
The crisis has displaced tens of thousands of people, including many foreign nationals whose governments have been less responsive, or who hold passports that grant more limited mobility. Many more thousands of Sudanese have also fled their homes, and CBS News has spoken to some who witnessed crowded, confusing circumstances at Sudan's land borders.
At Port Sudan, which has been declared the country's new administrative capital, implying it's the safest place to be amid the fighting, thousands are left to wait and hope they can make it out while people with North American or European passports quickly get the green light to go.
Reefan said she left behind her grandmother and grandfather, along with aunts and uncles. 
"I said, 'I love you,' to all of them," she told CBS News.
The lights of Port Sudan dimmed behind the departing boat as people looked back one last time at what had been their home. Minutes later, the Saudi ship appeared above in the pale moonlight, and they were lifted up on board, headed for a more peaceful life.