World
England set to ban some single-use plastics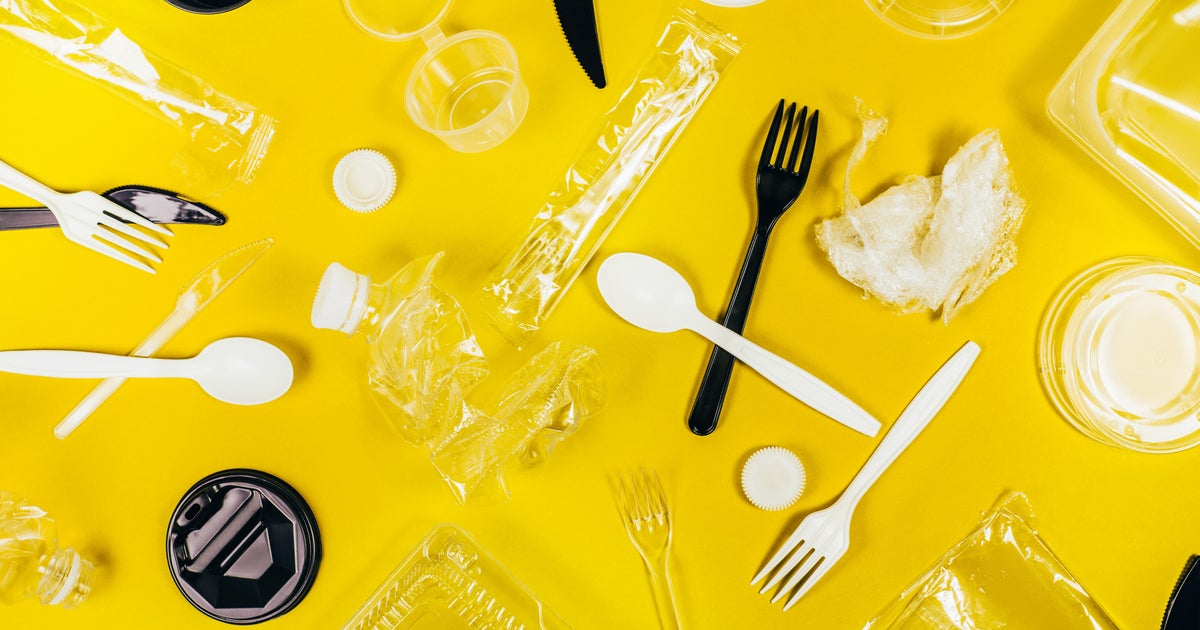 The U.K. government is planning to ban the use of some single-use plastics in England, the Department for Environment, Food and Rural Affairs confirmed to CBS News on Monday. The government will officially announce its plan on Saturday.
Proposed plans to eliminate some single-use plastic products — namely items used for takeout food such as cutlery, plates, polystyrene cups and food and beverage containers — were announced in November 2021. According to estimates unveiled at that time, officials said the country uses 1.1 billion single-use plates and 4.25 billion items of single-use cutlery every year. 
The public was able to comment on the proposal over the next several weeks, through February 12, 2022. 
Environment, Food and Rural Affairs Secretary of State Thérèse Coffey told BBC News that she's "determined…to tackle this issue head on." 
"We've already taken major steps in recent year – but we know there is more to do, and we have gain listened to the public's calls," she told the BBC. "This new ban will have a huge impact to stop the pollution of billions of pieces of plastics and help to protect the natural environment for future generations." 
The U.K. government already banned the use of microbeads in personal care products in 2018 and reduced the supply of single-use plastic straws, stirrers and cotton beds in 2020. But according to the 2021 proposal, plastic "remains widespread and its inappropriate disposal causes environmental damage." 
"A plastic item used for a few minutes can persist in the environment for hundreds of years and endanger wildlife and habitats," the environment department said. "When broken down into microplastics, it reaches our soils, waterways, ocean and food chains within them."
Plastics are a difficult material to recycle, and single-use plastics, such as straws, bags and food use products, generally can't be recycled at all. Even when plastic materials are recycled, the material itself can only be repurposed so many times before it ends up in a landfill. Over time, the plastic pieces just continue getting smaller until they become what's known as microplastics, which means they're only millimeters long at most. 
Massive amounts of microplastics have been found in the ocean and in marine animals. Researchers previously told CBS News they've even been found in human stool, tissues, placentas, breast milk and blood.
While the move is being welcomed, many say it's taken far too long to make it happen. 
U.K. activist group Surfers Against Sewage tweeted that "the bald fact is England lags behind the rest of the UK, who have already implemented bans on these items." Scotland, for example, fully banned single-use plastic cutlery, plates, beverage stirrers and food and beverage containers made of expanded polystyrene last June, while only allowing plastic straws and balloon sticks in certain circumstances. 
"Plastic pollution is choking the ocean at an ever-increasing rate and is a huge contributor to the climate emergency we're all facing," the group said. "We need to see the government move beyond piecemeal policies that only scratch the surface and take real, lasting action to change our broken system, and that means reduction, reuse and refill and plastic pollution reduction targets. It's time to turn off the plastic tap, not just bail out the bath." 
Greenpeace U.K. campaigner Megan Randles offered a similar sentiment to BBC News, saying that "we're dealing with a plastic flood." 
"This is like reaching for a mop instead of turning off the tap," Randles said, adding that there needs to be more action taken on reducing plastics and implementing a "proper reuse and refill scheme."