World
Earthquakes death toll passes 16,000 as "critical" window for rescues closes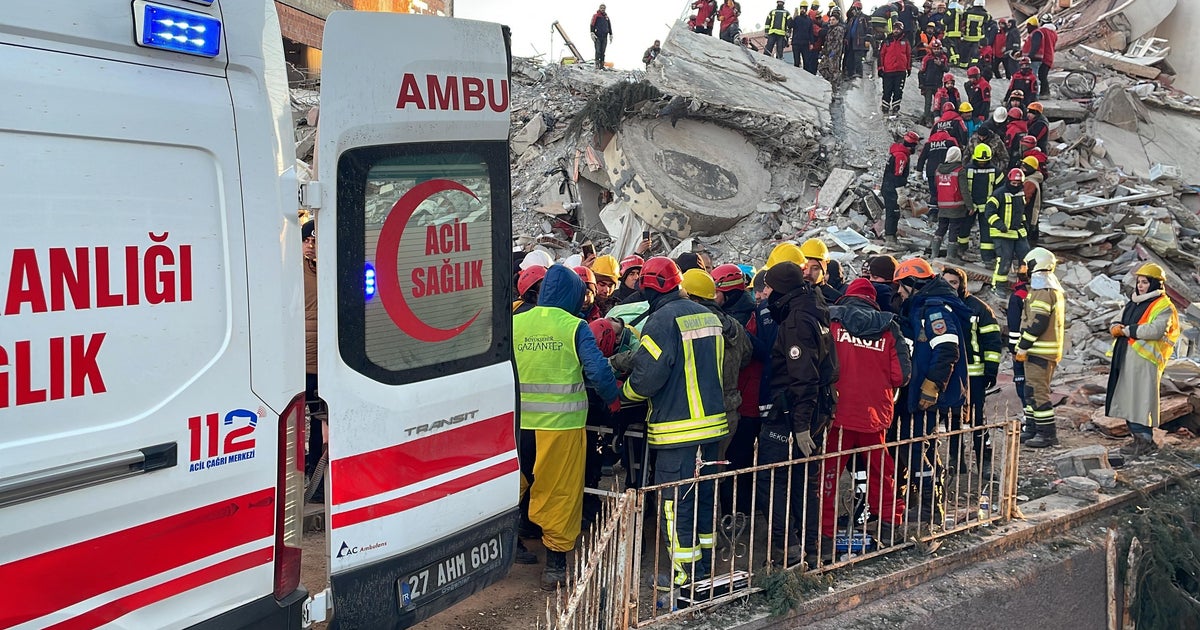 Gaziantep, Turkey — Rescuers pulled more survivors from beneath the rubble of collapsed buildings Thursday but hopes were starting to fade of finding many more people alive more than three days after catastrophic earthquakes and a series of aftershocks hit Turkey and Syria, killing more than 16,000.
Emergency crews working through the night in the city of Antakya were able to pull a young girl from the ruins of a building and rescue her father alive two hours later, news agency IHA reported.
As they prepared the man to be loaded into an ambulance, rescue crews told him that his daughter was alive and they were taking him to the same field hospital for treatment.
"I love you all," he faintly whispered to the rescue team 
In Diyarbakir, east of Antakya, rescuers freed an injured woman from a collapsed building in the early morning hours but found the three people next to her in the rubble dead, the DHA news agency reported.
But experts said the survival window for those trapped under the rubble or otherwise unable to obtain basic necessities was closing rapidly. At the same time, they said it was too soon to abandon hope.
"The first 72 hours are considered to be critical," said Steven Godby, a natural hazards expert at Nottingham Trent University in England. "The survival ratio on average within 24 hours is 74%, after 72 hours it is 22% and by the fifth day it is 6%."
In addition to 12,873 people killed in Turkey, the country's disaster management agency said more than 60,000 have been injured. On the Syrian side of the border, 3,162 have been reported dead and more than 5,000 injured, bringing the death toll in the two countries to 16,035.
Tens of thousands are thought to have lost their homes. In Antakya, former residents of a collapsed building huddled around an outdoor fire overnight into Thursday, wrapping blankets tightly around themselves to try and stay warm.
Serap Arslan said many people remained under the rubble of the nearby building, including her mother and brother. She said machinery only started to move some of the heavy concrete on Wednesday.
"We tried to clear it by our own means, but unfortunately we are very inadequately" prepared for the job, the 45-year-old said.
Selen Ekimen wiped tears from her face with gloved hands as she explained that both her parents and brother were still buried.
There's been "no sound from them for days," she said. "None."
President Recep Tayyip Erdogan was scheduled to travel Thursday to the quake-hit provinces of Gaziantep, Osmaniye and Kilis amid ongoing criticism that the government's response has been too slow.
According to the disaster management agency, more than 110,000 rescue personnel were now taking part in the effort and more than 5,500 vehicles, including tractors, cranes, bulldozers and excavators had been shipped.
The task is monumental, however, with thousands of buildings toppled by the earthquake.
Erdogan, who faces a tough battle for reelection in May, acknowledged problems with the emergency response to Monday's 7.8-magnitude quake, but said the winter weather had been a factor. The earthquake also destroyed the runway at Hatay's airport, further disrupting the response.
"It is not possible to be prepared for such a disaster," Erdogan said. "We will not leave any of our citizens uncared for." He also hit back at critics, saying "dishonorable people" were spreading "lies and slander" about the government's actions.
Turkish authorities also said they were targeting disinformation, and the internet monitoring group NetBlocks said Wednesday that access to Twitter in Turkey had been restricted, despite it being used by survivors to alert rescuers. However, Twitter CEO Elon Musk tweeted Wednesday night that "Twitter has been informed by the Turkish government that access will be reenabled shortly."
And NetBlocks tweeted Thursday that "access to Twitter is being restored in #Turkey following hours of filtering. The restoration comes after authorities held a meeting with Twitter to "remind Twitter of its obligations" on content takedowns and disinformation."
The disaster comes at a sensitive time for Erdogan, who faces an economic downturn and high inflation. Perceptions that his government mismanaged the crisis could hurt his standing. He said the government would distribute 10,000 Turkish lira ($532) to affected families.
Teams from more than two dozen countries have joined the local emergency personnel in the effort. But the scale of destruction from the quake and its powerful aftershocks was so immense and spread over such a wide area that many people were still awaiting help.
The region was already beset by more than a decade of civil war in Syria. Millions have been displaced within Syria itself, and millions more have sought refuge in Turkey.
In Syria, aid efforts have been hampered by the ongoing war and the isolation of the rebel-held region along the border, which is surrounded by Russia-backed government forces. Syria itself is an international pariah under Western sanctions linked to the war.
The earthquake's toll has already outstripped that of a 7.8-magnitude quake in Nepal in 2015, when 8,800 died. A 2011 earthquake in Japan triggered a tsunami, killing nearly 20,000 people.