Tech
California startup Telly is offering a free 55-inch TV set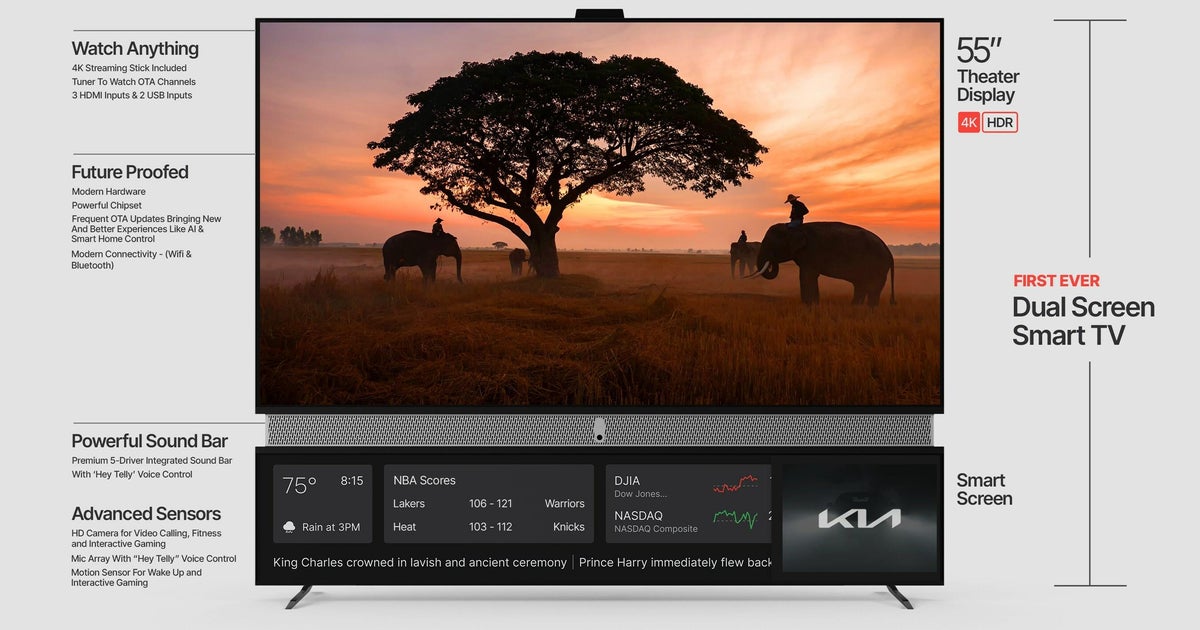 A company in California plans to give away half a million 55-inch television sets. All you have to do is share your personal data, including shopping habits, home address, household income and other details that advertisers desire.
The startup, named Telly, opened an online reservation portal this week for anyone interested in its TV set and plans to ship the devices out this summer. The sets feature a main screen on top where viewers watch content and a smaller second screen below that displays a nonstop stream of advertising.
More than 100,000 people registered to get the TV sets in the first 36 hours of the offer, Telly CEO Ilya Pozin said Thursday. Two-thirds of people signing up are either Gen Z and millennial households, said Pozin, who co-founded Pluto TV nearly a decade ago. 
The TV set is valued at $1,000 and Telly plans to push software updates to the device to make it even better, chief strategy officer Dallas Lawrence told CBS MoneyWatch. Customers can return the sets whenever they want, but the goal is for the TV to last in someone's living room for upwards of seven years, Pozin said. 
Telly's free TV offer is a sharp departure from the way companies traditionally glean personal information from customers. Companies like DataCoup, FusionCash, Tapestri, and Tiki allow customers to exchange their data for cash, but not a physical product like a television. Frequently sharing personal data could lead to identity theft if hackers happen to breach computer servers that companies use to house your information, cybersecurity experts warn. 
Viewers are already watching ads anyway, but under Telly's offer at least they're being rewarded to do so, said Lawrence, a former senior vice president at Roku. Telly plans to ship out millions more TV sets next year, he added. 
"We are bringing an end to the decades-long practice of TV manufacturers double-dipping on consumers where they charge for the television and then turn around and make billions of dollars selling advertising and data without providing the consumer any value," he said. "We believe the consumer should share in that value proposition and therefore we are providing them the most advanced TV ever created for free."
Telly launched in 2021 as a free television streaming app. The company has venture backing from Rich Greenfield of LightShed Ventures and Gary Vaynerchuk from Vayner Media.