Entertainment
"All Quiet on the Western Front": Remaking the anti-war classic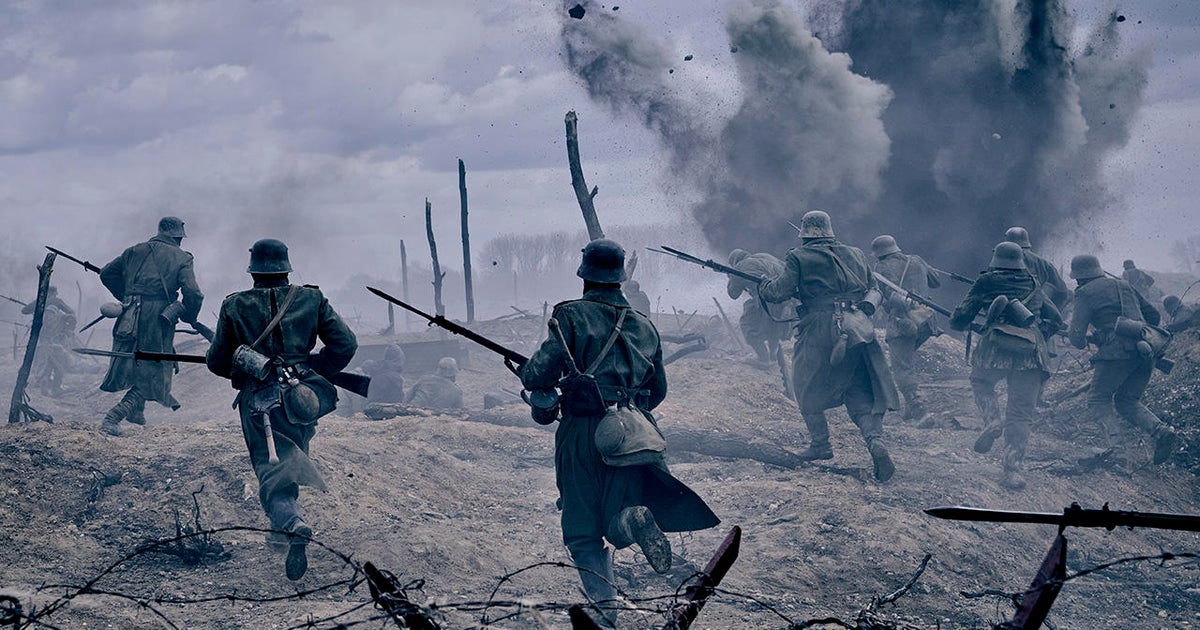 You wouldn't have thought a book that had sold 40 million copies and been made into a movie twice before would need another remake. As Edward Berger, director of "All Quiet on the Western Front," explained, "I wanted to make the experience as physical or visceral as possible for you."
Berger's new version has come at a time when the world doesn't need more vividly manufactured war scenes on its screens. It's getting plenty of the real thing from the war in Ukraine, which is also proving again that the lessons of history are rarely learned. That may be a good reason for a refresher course.
The Netflix version is so effectively done, it's been nominated for nine Academy Awards, including best picture, best international feature, and best adapted screenplay.
Berger said of one scene, when an Allied tank rumbles over a German-held trench, "We really tried to put you into the shoes of these kids underneath the tank to really feel that panic and the vibrating ground."
"All Quiet on the Western Front" follows German soldiers descending into the hell of the trenches of the First World War. It is still considered among the most powerful anti-war stories ever written. The original book, by German World War I veteran Erich Maria Remarque, was an immediate sensation when it was published in 1929. But it was also controversial. The Nazis considered it so defeatist and un-German, they banned it and burned it when they came to power.
The first film version, which came out of Hollywood in 1930, is considered a classic that won Oscars for best picture and best director; and a 1979 made-for-TV version, which starred Richard Thomas and Ernest Borgnine and aired on CBS, won a Golden Globe and an Emmy.
The brutal battle scenes in the current version, said Berger, are there for a reason: "We didn't want to make a violent movie for violence's sake. We wanted to make a movie that grabs you by the lapels, drags you through the mud, and gives you the feeling, a very subjective feeling. In my opinion, it has to be violent and brutal to the edge, because everything else would be propaganda."
To watch a trailer for "All Quiet on the Western Front" click on the video player below:
But the fact that a movie about war is now so topical is mostly an accident. The project actually began three years ago, well before Vladimir Putin's army rolled into Ukraine, although Berger says he did feel at the time that trouble in some form was coming: "The 'Why now?' was mostly motivated by a feeling that we had when we watched what happened in parliaments around the world; in America with the [Trump] administration; Brexit; Orban in Hungary; in Germany, a far-right party rising again."
"You just thought things were in general decline and it was time to remind people of things?" asked Phillips.
"Well, there was general antagonism," Berger said.
The politics may have been different then, but there are plenty of parallels between the First World War and the current war in Ukraine. The main character in "All Quiet on the Western Front" is Paul Bäumer, a German teenager caught up in the nationalistic fervor that sent millions of kids to the front – kids who were told it would all be over soon.
But it's a story of almost instant disillusionment.
In the Imperial War Museum in London, they've reconstructed a First World War trench, which is where we met Felix Kammerer, who plays Paul Bäumer. It's his first-ever role in front of a camera.
Phillips asked, "Frankly, you don't look like the war-hero type. Do you think you were kind of cast against type in this movie?"
"We were not aiming for a war hero," Kammerer replied. "We were aiming for a very usual, you know, a very common boy from whose perspective we could look. It's really about a boy that is like millions of others at that time, and nowadays, too."
And nowadays, it's clear again the so-called "war to end all wars" … didn't.
Sarah Paterson, a curator at the Imperial War Museum, said the film is relevant because of the current war in Europe: "I can see that there are parallels. You know, we see film footage of Ukrainians in trenches, and they are sort of sheltering from artillery, which of course is a big feature of the First World War."
Phillips asked, "Is there a moral role for films like this, revisiting some of the great military tragedies of our time?"
"Absolutely," said Paterson. "I think it's great that we are talking about this now, and I think, you know, we are supposed to learn from history – even if it doesn't actually happen quite like that in real life, sadly, as we see in Europe today."
In the end though, it's just a movie, and can only do so much.
"Of course, you are baffled and you are shocked that something like this can happen again and again and again," said Kammerer. "But at the same time, it just shows the relevance once again of this film, that we can't just stop thinking about war as a topic, and war as a reality. Because we seem to just not getting any cleverer. We just keep doing the same mistakes for thousands and thousands of years."
     
For more info:
     
Story produced by Mikaela Bufano. Editor: Brian Robbins. 
EDITOR'S NOTE: Edward Berger, the director of "All Quiet on the Western Front," is nominated for an Academy Award, but for best adapted screenplay, not best director.